THE GOLDEN PERSONALITY PROFILER
A powerful tool for gaining deep self-knowledge and awareness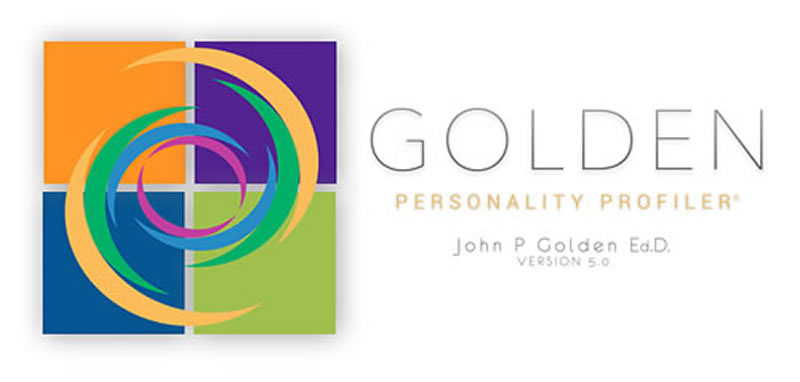 The Golden Personality Profiler at a Glance
Measures personality type, traits, temperament, and response to stress
5 global scales
40 facet scales
Insights on career and major selection, team, leadership, stress management, coaching tips, and personal development
125 questions / 170 scored items
Advanced question/item format
Online admin only
25-30 minutes to complete
Ages 16 years plus
Free support materials, guides, and technical manuals
Certification Level: B, online training available to meet qualification requirements
The Golden Personality Profiler
'

s 5 Global Scales
Energy - Extraverting vs Introverting
Information - Sensing vs iNtuiting
Deciding - Thinking vs Feeling
Controlling - organiZing vs Adapting
Stressing - Tense vs Calm
The Golden Personality Profiler
'

s 40 Facet Scales
Extravert/Introvert: Talkative, Socially Bold, Outgoing, Participative, Quiet, Reserved, Intimate, Reflective
Sensing/iNtuiting: Concrete, Practical, Conventional, Traditional, Abstract, Innovative, Visionary, Trend-setting
Thinking/Feeling: Rational, Autonomous, Analytic, Competitive, Empathetic, Compassionate, Warm, Nurturing
organiZing/Adapting: Planned, Reliable, Deliberate, Conforming, Open-Ended, Casual, Spontaneous, Non-conforming
Tense/Calm: Concerned, Unsure, Unsettled*, Unconstrained*, Optimistic, Confident, Resilient* & Regulated*
The Golden Personality Profiler Application Settings
Career and educational planning
Personal development
Teambuilding
Coaching
Counseling
Management/leadership development
The answers to life's most important questions and challenges are formed, first and foremost, by having accurate self-insights. Administered worldwide by schools and organizations in all industries, the Golden Personality Profiler is the most in-depth personality assessments available. Golden's unique model powered by Jung's psychological type, Thurston's five factor model, Allport's trait theory, Hippocrates temperament theory and Selye's stress theory, offers deep insight into one's personality, as well as affords the ability to understand others better, making the Golden the perfect tool to guide you or your clients to better answers and solutions for life's most pressing challenges.
Who should take the Golden Personality Profiler?
High school students, college students, coaching clients, employees, team members, managers, leaders, spouses, parents.
Who administers the Golden Personality Profiler?
Counselors, teachers, professors, coaches, trainers, therapists, recruiters, ministers, managers, leaders.
How much does the Golden Personality Profiler cost?
Prices charged depend on how and by whom it is purchased. Purchased individually, the survey, report and guidebook are $29.95. When purchased by administrators for use with their clients the cost is determined by the number of administration credits purchased. The more ordered, the lower the cost. Learn more >>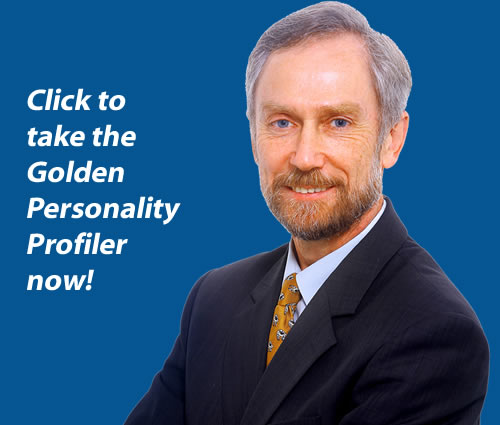 The Golden Personality Profiler Report Includes
• Easy to interpret pages
• In-depth personality profile portraits
• Advanced type predictions reporting scoring
• Temperament portraits
• Career and educational major suggestions
• Stress portraits and management suggestions
• Cardinal and central trait at a glance
• Coaching tips and suggestions
• Two report options to choose from -
• • Talent Management report
Sample Report >>
• • Self Development report
Sample Report >>
• Additional report options -
• • Golden Team report
Sample Team Report >>
• • Person2Person report
Sample Person2Person Report >>
Development of the Golden Personality Profiler
The Golden Personality Profiler has a long and rich history spanning two generations of psychologists. 1960s the Rev. Dr. Edward S. Golden played an integral role pioneering and popularizing the use and research/development of other global recognized personality assessments and later funded and supported validation research. Building upon that base and following in his father's footsteps Dr. John Patrick Golden assumed leadership of the family business Golden LLC in 1995. Tailored to meet the growing assessment needs of the secondary, higher education and personal development the newest version called the Golden Personality Profiler - GPP (survey and report - version 5.1) is published and administered online only by Golden LLC.
The Golden Personality Profiler is now published globally, available in 13 foreign languages.
The Golden Personality Profiler, version 4.0 is published by Golden LLC on its global website and platform GoldenProfiler.com with French, Dutch, US and UK English versions available, as well as available under license from Golden LLC with the world's premier assessments publishers.